I've recently had a chance to test drive the new Lululemon products that I bought over the past few months and found some great pieces for summer running. I haven't had a chance to take many pictures (most of these are old), but I hope that even without lots of photos this review will be useful since these items are out now.

Hit Your Stride Skirt
I posted previously about the fit of this skirt compared to the Pace Rival Skirt. Since then I've worn this skirt running several times and really love it. Even though it is shorter than the Pace Rival Skirt (tall length), the built-in shorts are long enough to prevent chafing, and the shorts stay down and don't budge. It's really easy to get things out of the pockets on both the side hips and the side legs (four pockets total). The skirt is very lightweight and great for hot weather runs. It's also extremely comfortable. I also like that the fabric is UPF50+ and there are hidden reflective details. I think this is actually my favorite running skirt for all these reasons, and I'd get another if it comes out in a color I like. The only downside is that it's short enough that I wouldn't wear it for casual wear.

White Hit Your Stride Skirt &
Heathered Black Cherry What the Sport Singlet


Pace Rival Skirt
I have the original Pace Rival from last year and bought the Pace Rival II this year. I wore my original Pace Rival (size 6, tall length) for a 6-mile run a few months ago. The built-in shorts didn't budge, but the gummed hems on the legs were extremely tight and were uncomfortable at the end of the run. This could be simply because my weight is up from last summer so just fits tighter. I would not wear the Pace Rival I for long runs because of the tight legs. I bought the Pace Rival II in size 8, and it is much more comfortable and a looser fit. I wore it on an 8-mile run, and even though the built-in shorts are looser, they didn't budge. I like this skirt but prefer the pockets in the Hit Your Stride Skirt.


Electric Coral Pace Rival Skirt II
Athleta Wasabi Green Heather Stripe Chi Tank


What the Sport Singlet
This tank in Lulu's stink-proof Silverescent fabric is new this year and is rumored to be the replacement for the 105F Singlet. Many people don't like it, and it doesn't appear to be selling well. I actually love it. It's perfect for hot weather running. The fabric is extremely lightweight and the straps don't move. I can't wear the 105F Singlet for running because the straps flop around too much. I also like the longer, bum-covering length. It has a slight a-line shape and is very flattering on my figure (smaller waist, larger hips). It's fitted (unlike the 105F Singlet) but not tight (unlike the Cool Racerback). I got the same size I get in CRBs. I also wore this tank for a full day of sightseeing on a sunny, 86F day this past weekend, and it was great. While this tank is pricey for a tank (all Lulu Silverescent items are pricier), I would get more of these in colors I like but will also keep my eye out for when they go on markdown since they don't seem to be selling very well. While I like the back design of the 105F Singlet better, the WTSS is more flattering and better for running, so I'm happy with this replacement.

Side view of What the Sport Singlet and Hit Your Stride Skirt
You can see how long the back is.


Run For Days Bra
Lulu's Run Stuff It Bra is very popular because of the pockets you can keep things in. But I just don't like the design. So when the Run For Days Bra came out with pockets but a different design that I liked better, I picked one up. This bra is made with the stink-proof Silverescent fabric so is pricey. My run bras get so soaked with sweat that I can only wear them once before washing, so I thought having one with stink-proof fabric would be great. I bought this bra in black in the same size I buy Energy and All Sport Bras (8). It is extremely comfortable and might be the most comfortable running bra I have. There are three pockets--two on the side and a big one in the front. I could probably fit everything I carry for long runs inside this bra! There is also a little opening above the band in the front, which is great for ventilation. Most people who reviewed this bra reported that it's more supportive than the Energy and All Sport Bras. I unfortunately did not find this to be the case. While I have very little bounce in the Energy and All Sport Bras, I had much more bounce with this bra. It wasn't enough to make me return it, though, because it has so many other great features. I think this is going to be a really great run bra for runs where I need to carry things and don't have many pockets.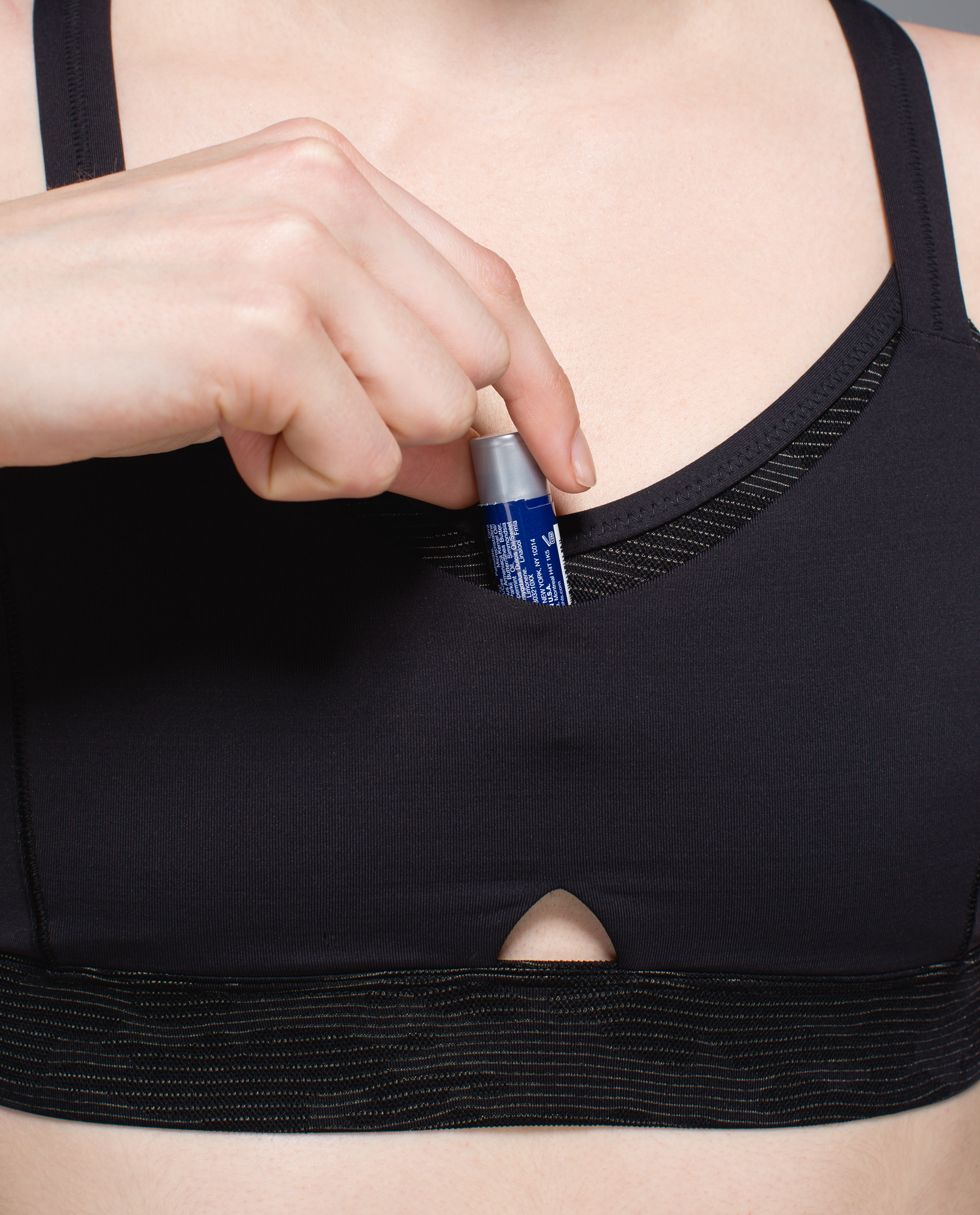 From the Lululemon site--showing the front pocket


Fast Paced Run Visor
I have to admit that I find visors a little dorky. But when I saw how wide the brim on this visor was, I had to have it. It's awesome. It shades almost my entire face. I also like that I can wet my hair and have it exposed on hot days to stay cool. But because my hair is dark and can get hot from the sun, I'm not sure if a visor or a light-shade hat would be better at keeping me cool. The brim is perfect on this visor, though, and I like that it's a sleek, understated design.

Fast Paced Run Visor


Run All Day Backpack
I want to start trying a run commute home from work, but I could also use a small backpack for hiking, walking my dog (I carry a water bowl and water for him in hot weather and always carry Halt! pepper spray since he's been attacked by off-leash dogs), and travel. This backpack seemed great for all those things. While I haven't run with it yet, I did use it on a weekend trip last weekend. I used it for one of my carryons as well as all-day sightseeing for two days. This pack has a lot of great features. I actually had to refer to the tag for a while to learn about all the features! The bottom straps are removable, and I removed them for the trip. I tucked the upper chest straps in because I didn't want to use them, so it was easy to convert this from a running pack to a general pack. I liked all the interior pockets and found the main compartment to be very roomy and to easily fit all my stuff. The straps were very comfortable. I had no issues walking around all day for two days with it on. I initially didn't like the hard back but also found it to be very comfortable. There is a zippered pocket on one side for a phone. It was hard to fit my (very large) Samsung Galaxy phone with its cover in it, but I took the cover off and it fit fine. I kept having to get my phone out to check the map, and it was very easy to get the phone into and out of the pocket with one hand without taking off the pack. The biggest downside to this pack was that because it's so slim-fitting, I could not get my water bottle out of and into the side pocket easily. Most times I had to take the pack off. There is a hydration sleeve and hidden tunnel for a tube to put a water bladder in it for running, but for other uses water bottles are not easy to access. This is a very big downside for me since I'm constantly drinking water, but I guess it needs to be weighed with the very big upside of this pack being very small. Aside from that, this is a very nice, lightweight, small, waterproof, comfortable pack that can be used not just for running but for short hikes and travel as well.


From the Lululemon website. This is the color/print I got but is no longer
available online. Other colors/prints are available and new ones are still being released.
Labels: fast paced run visor, hit your stride skirt, Lululemon, pace rival skirt, performance review, run all day backpack, run for days bra, what the sport singlet