I had $140 worth of gift cards and rewards (from my Banana Republic credit card) to spend at Athleta, so I bought two new running tops.

The first is the Chi Top ($54) in white. I have this top in three other colors and love it for cool weather running. The fabric is very soft and lightweight, but not so light that cold air will blow through it. I get really hot when I run, so it's just the right weight for me for when it's cool. And if I get too hot in it, the sleeves are easy to push up. I order a size up (medium) so that I can wear tanks under it if it's cooler, and I can wear it as a base layer in winter. The fabric is also unstinkable. Because the only reflective detail is a small Athleta logo on the upper back, I also wear these tops a lot for casual wear. The white is a good basic that I'll be able to wear a lot.


Athleta Chi Top


I also bought the new Tracker Top ($79). The description says the top has a performance feature called REGUL8, described as "evaporative cooling increases if you're warm, decreases if you're cool." Because I tend to overheat, this sounded great. The fabric is also unstinkable. There's an option with a hoodie or a crewneck with a zip. Because I'd only wear the hoodie on the coldest days, I bought the crewneck in white. After trying on both the small and medium, I got the small, which is pretty fitted.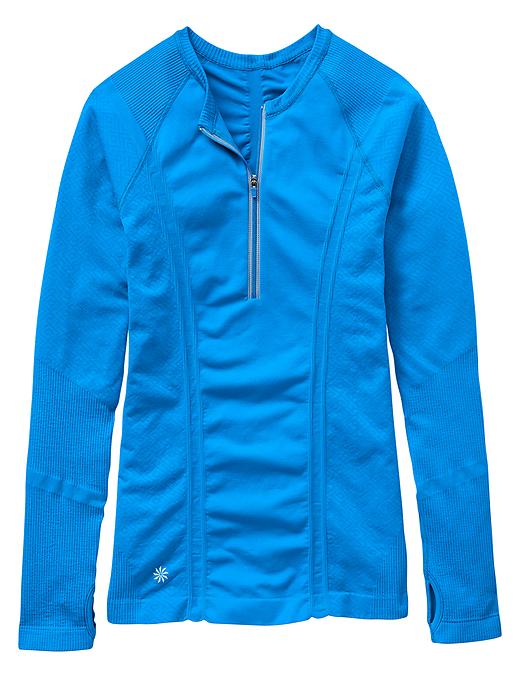 I really like the fabric. It is very soft and stretchy. While the description described the top as lightweight, I would say it's definitely mid-weight. There are thumbholes, and the inside of the bottom hem has little grippy dots to help it stay down.

I wore the top on my 11-mile run Sunday morning, when it was in the low 40s and pretty cold.


The top was warm and cozy but not so warm that I got really hot in it. So maybe that REGUL8 technology really does work! Although, I did wear a tank under it. The neck was too tight to run in with it fully zippered, but I just unzipped it a bit when I ran and then zipped it up on my warm-up and cool-down walks.

Unfortunately, the top rode up the entire run. Because I wore tights with a silky-ish fabric (Lululemon Speed Tights with Luxtreme fabric), I wore a tank with a woven, matte fabric (Lululemon's Cool Racerback Tank) to prevent the Tracker Top from riding up. It didn't work. The Tracker Top is pretty short (you can see it barely comes down to mid-hip), and I think it's just too short and tight-fitting to stay down. When the top rode up, the grippy dots pulled the tank up too, so both the tank and top rode up to above my hips. I kept having to pull the tops down constantly, which was pretty annoying on an 11-mile run. I have worn these types of tanks with these types of bottoms previously and had no problem with the tank riding up, so I'm pretty sure the top made the tank ride up. I also tried tucking the tank up to see if the top wouldn't ride up if the grippy dots were on the tights, but it still rode up. Maybe this top wouldn't ride up with matte bottoms? I'm not sure.

Because nearly all of my fall and winter running tights have the silky Luxtreme fabric, I won't be able to wear this top for running so will be returning it (yay for Athleta's awesome return policy!). It's a shame, because I really liked the fabric. While it's not heavy, it really kept me warm. I would recommend this top for other winter activities or perhaps to wear with matte fabric bottoms, but for my running wardrobe, this just didn't work for me.

Labels: athleta, performance review